Career Development IDC (Rescue)
Career Development IDC (Rescue)
Our Career Development IDC teaches more than just the required materials as we show you different aspects of the dive industry so that you are more marketable to employers.
---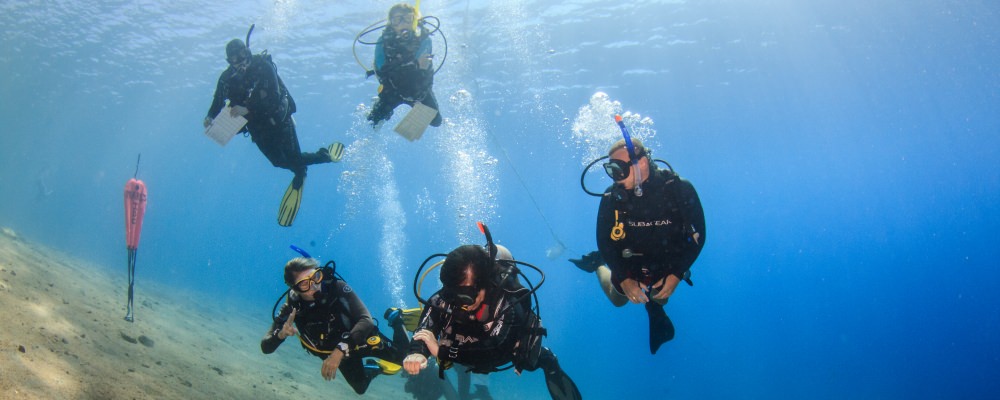 Overview
This package assumes you are already a Rescue Diver (please see prerequisites) and gives you the opportunity to change your complete lifestyle in only a couple of months. We will take you from your current level to Speciality Instructor in readiness for your Master Scuba Diver Trainer rating. The duration is still significant as great focus is put onto our Divemaster training and also onto our 2 created courses – the Work Experience and the Dive Management modules. These take up together almost half the course on their own, and then a combination of the IDC, Team teaching Instructor work experience, and also some hard earned time off give you the majority of the rest of the course. This Traineeship is fully focused on the Professional levels from Day One and is fairly fast paced and hard work – please remember the Divemaster rating requires study to pass it, and although we build downtime and trips into the timetable, you must come to classes with the required reading and study assignments completed.
Tell Me About It
You will leave this Apprenticeship well qualified but also well experienced in diving, teaching, safety, operations, compressor and equipment maintenance, and the back office areas of scheduling, recruiting and booking. The aim of this course is to qualify you to work anywhere within the industry with a massive head start above other newly qualified instructors. The course includes all key PADI courses with a focus on interest areas up to instructor, and also includes all fees and materials. We focus on mentoring you through the ratings whilst gaining experience in real teaching situations. With this in mind the only thing you need bring is enthusiasm and willingness to learn.
Pre-requisites
Minimum age: 18 years old
Rescue Diver or equivalent, qualified at least 4 months prior to start date of Package
Be fit for diving and submit a Medical Statement for a diving medical examination conducted within the past 12 months. A licensed physician must sign the form and state that the person is fit for diving.
To attend the Instructor Exam you need to have been a diver for at least 6 months. This course takes around 4 months, so you must have completed your Open Water at least 2 month prior to starting this course.
---
Time & Costs
Duration : 15 weeks
Tuition : please enquire
Materials: please enquire
PADI fees: please enquire (must be paid by credit card)
Includes accommodation, all materials and all certifications, all tuition
Required equipment: rental dive equipment included in price
Additional Costs & Considerations: medical signoff, visa for Egypt, food, flights, insurance